June 8, 2022
Lamb Barbacoa
A local caterer turns our sheep into amazing culinary dishes.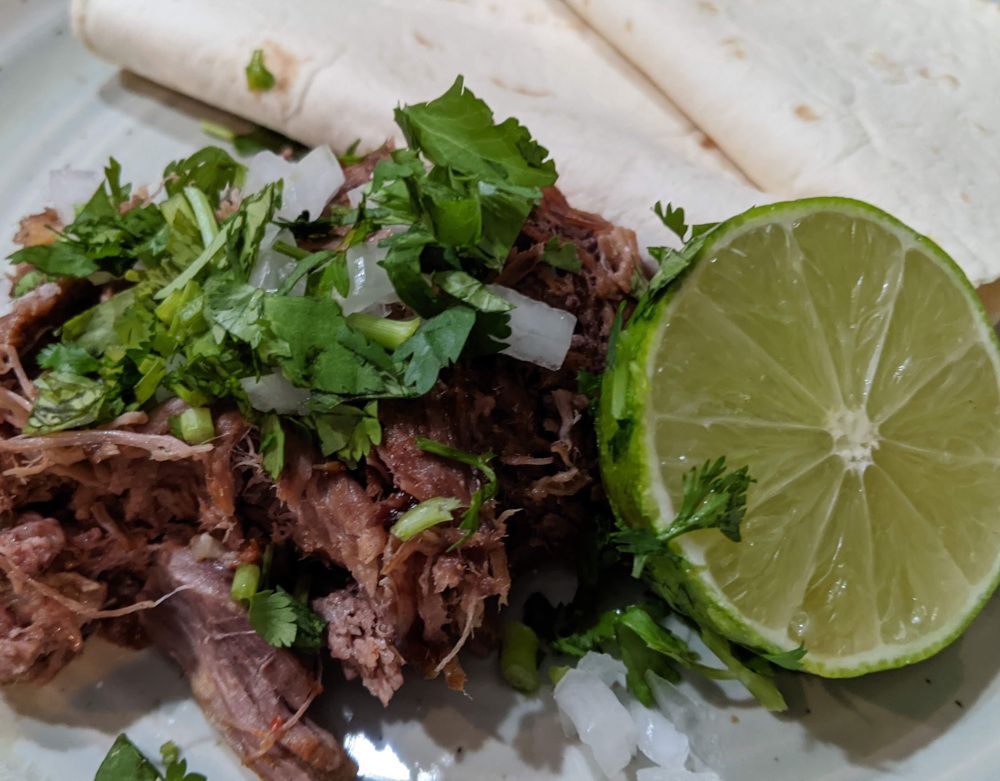 Lots of folks buy our [pre-packaged cuts of lamb and mutton], but we have one customer who buys a whole sheep per week. As a side hustle, he runs a family catering business (the Marquez family) specializing in authentic backyard Latin American cuisine.
We asked him to bring us a sample, and so he did! On Monday (June 6th), we heard someone toot their horn in our driveway. I (Todd) was just coming in from working outside when I rounded the back of the house. There he stood—a smiling Mr. Marquez—arm outstretched, holding a white plastic bag. I took a peek inside, enveloping my head in the aroma of roasted lamb goodness. Just in time for dinner, we were about to sample his lamb—or in this case, mutton—barbacoa.
We gently mixed in the cilantro and onions and squeezed the lime over top. Bliss! We tried it on both a soft tortilla and naked. Delicious in both cases, but naked, it really emphasized how good it was without the distraction of a carbohydrate filler.
So good!
He's going to bring us some soup next week. They use the rest of the animal to make the soup: bones, tissue, etc., though it is best not to ask for all the details. We look forward to that.
Though we love the samples, we mostly just appreciate someone who respects the animal and the sustenance it provides and the fellowship good food facilitates.
---
We think the Marquezes only cater to friends and family at the moment, but if you would like to book them to cater for your gathering, we can reach out to them.
---
We'd be remiss if we didn't guide you to our [lamb/mutton page]. It doesn't provide a fancy shopping cart, but the process is easy enough: Just email us a list of what you want. We'll then send you an invoice and set aside your order, ready for when you come and pick it up.